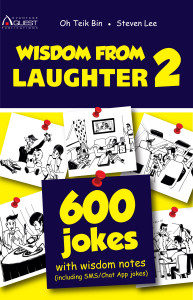 Wisdom From Laughter 2
600 jokes with wisdom notes
Wisdom from Laughter 2 essentially is a compilation of 600 jokes on different subjects like Marriage, The Professions, School, Religion, Children, The Law, Education, Romance, Family, Home and so on. Features of the book include the following:
The use of simple and clear English for easier reading

Clean jokes which serve to tickles one's funny bone
Cartoon drawings to brighten up things
Reflective wisdom notes for each of the jokes
Some quotes and sayings on humour and wisdom sprinkled in each chapter
A list of common SMS terms and their meanings
Humour and laughter have been proven to have a great healing and therapeutic powers. Wisdom and life lessons are important to cope with challenges and stress of modern living.
May Wisdom from Laughter 2 enrich every reader.
May this book helps us on our path to be happier and wiser.