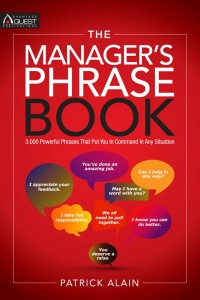 The Manager's Phrase Book
3,000 Powerful Phrases That Put You in Command in Any Situation
As a manager, this book lets me do more, faster, and that's all I ever need.-Armand Pinarbasi, Honorary Consul of the Kingdom of Denmark
The Manager's Phrase Book is a must read for anyone who needs to improve their mastery of management communications. – Therese Jamaa-Froger, business development director, Qualcomm
This book is pure gold for any type of manager. – George T. Ayoub, CEO, Machine Vision Products

As a manager, you'll never feel anything less than fully confident if you've used this book. – Carlos Echaves, founder and CEO, RetroActiv Games

The major portion of management is communication. This eminently practical book will make you a more confident speaker. – Sam Abi-Samra, vice-president, HDR Inc.
 The Manager's Phrase Book will help you to:
Use the correct words at all times
Conquer conflict
Take on challenges and challengers
Build bridges between people
Address sticky situations
Further your own career