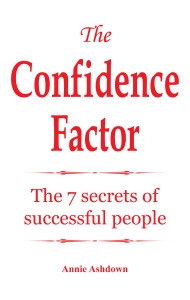 The Confidence Factor
The 7 Secrets of Successful People
7 simple steps to an UNSTOPPABLE YOU!
Confident people are positive, motivated, resilient, willing to take risks and eager to stretch themselves. They champion others, accept their own weak points and look the part, but don't show off. The good news is these are all qualities that can be learned, and Annie Ashdown, leading business and personal development coach, is here to show you how.
Illustrated with real-life case studies and invaluable insights from well-known high-achievers, The Confidence Factor is a practical, no-nonsense guide to building self-confidence and enabling success.
The Confidence Factor won't transform your life only you can do that but it will give you all the tools you need for the journey. It includes exclusive, first-hand insights from highachievers who overcame adversity, including Holly Tucker, Sam Roddick, Lynne Franks, Judy Piatkus, Carla Buzasi, Michael von Clarke, Denise Robertson, Ronit Zilkha, Jo Fairley and Ted Johnson