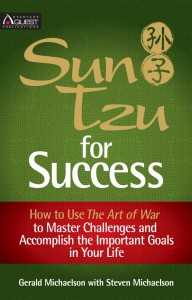 Sun Tzu for Success
How to Use The Art of War to Mater Challenges and Accomplish the Important Goals in Your Life
Practical insights for any business or personal management problem where win-win cooperative solutions are preferred. The ancient wisdom and winning strategies of Sun Tzu are lucidly interpreted by Michaelson.
– Clark C. Abt, Chairman, Abt Associates, Inc.
Following up on the bestselling success of Sun Tzu: The Art of War f or Managers, expert author and coach Gerald Michaelson expands Sun Tzu's ancient philosophy of warfare to personal development and success.
In setting forth his success strategies for leaders, Sun Tzu established The Art of War as the world's first "self-help" book. Now the timeless text gets a modern interpretation for today's world. Sun Tzu for Success enables you to develop a deeper understanding of yourself and others as a way to gain the upper hand in all activities in life.
Sun Tzu for Success helps you maximize your abilities in the following areas:
Creativity
Leadership
Moral integrity
Effective decision-making
Implementing strategy
Personal growth