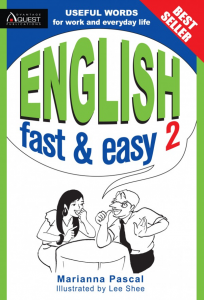 English Fast & Easy 2
Useful Words for Work and Everyday Life
Do you want to speak better English?
Write better essays and emails?
…but you're too busy to study?
Learn hundreds of useful words clearly, quickly and easily!
This book makes it easy to learn new words because:
Cartoons make the meaning clear
Examples show how to use the words
Pronunciation helps you speak well
Review exercises help you remember
Best-selling English Fast & Easy has helped thousands of people speak better English!