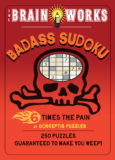 Badass Sudoku
250 Puzzles Guaranteed to Make You Weep!
It's Sudoku heaven for puzzles devotees who can't get enough. Six styles, three levels, 250 puzzles; guaranteed to make you weep.
Badass Sudoku is a collection of 250 puzzles featuring six styles of Sudoku puzzles: classic, irregular, multi, odd/even, diagonal and sum. Within each style are three levels of difficulty, which are clearly marked on each page – Easy, Medium and Hard. Conceptis Puzzles created these to challenge all level of players – those new to the popular puzzle craze and those who have already become hooked. Badass Sudoku will provide hours of entertainment while testing players skills and strategies.
Six style of puzzles and three levels of difficulty within each style!
Be prepared for some serious mental gymnastics!
250 puzzles with solutions in the back of the book.
Easy-to-carry around size.